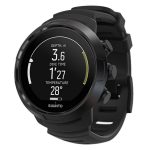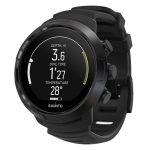 SUUNTO D5
€632.56 – €685.36
An easy-to-use dive computer with interchangeable straps that fit your style. Made in Finland.
The new Suunto D5 is designed to be so clear and easy-to-use that you can just enjoy and focus on exploring the wonderful underwater world. Play with style by changing the strap to match your looks. After diving, connect wirelessly to the Suunto app to re-live and share your adventures with friends.
Follow your dive details on the super clear, high contrast color screen. Choose from 4 dive modes and browse the simple yet intuitive menu with three buttons to easily switch between views and settings.
Specification
Decompression model – Suunto Fused RGBM 2
Four modes: Nitrox (and air), Freedive, Gauge, and Off
Digital compass
Rechargeable battery
Wireless mobile connection
Updateable software
100 meter water resistant
Interchangeable straps
Optional wireless air integration – current cylinder pressure, remaining air time
Weight: 90g / 3.17 oz
Bezel material: Stainless steel
Glass material: Mineral crystal
Case material: Reinforced composite
Strap material: Silicone
NORMAL 2 YEARS WARRANTY AGAINST MANUFACTURING DEFECT
2 YEARS INTERNATIONAL LIMITED WARRANTY
This International Limited Warranty is valid and enforceable regardless of the country of purchase, unless local law stipulates otherwise.
Suunto Warrants that during the Warranty Period Suunto or a Suunto Authorized Service Center (hereinafter Service Center) will, at its sole discretions, remedy defects in material or workmanship free of charge either by a) repairing, or b)replacing or c)refunding,subject to terms and conditions of this International Limited Warranty.
WARRANTY PERIOD
The International warranty Period Start at the date of original retail purchase
The warranty Period is two (2) years for the Products and Dive transmitter unless otherwise specified
Extension Warranty for five (5) years for Pressure Sensor problem on all Suunto dive products. From the date of original purchased
The warranty Period is one (1) year for accessories including but not limited to wireless sensors and transmitters, chargers, cables rechargeable batteries, straps,bracelet and hoses.
EXCLUSION AND LIMITATION
This International Limited Warranty does not cover :
a) Normal wear and tear such as scratches ,abrasions, or alteration of the color and/or material of non-metallic straps, b) defects caused by rough handling, or c) defects or damage resulting from use contrary to intended or recommended use improper care, negligence, and accidents such as dropping or crushing;
Printed materials and packaging
Defects or alleged defects caused by use with any product, accessory, software and/or service not manufactured or supplied by Suunto;
Non-rechargeable batteries
2 years warranty for the service module. Please note that this 2 years warranty is valid only for service modules that have been offered to the customers in non warranty cases.