Company Background
Late in 2002, the 30-year old Aquaventure Philippines and Whitetip Divers (originally established in the 1980s) were combined to form Aquaventure Whitetip Dive Supply.
Since our inception we have been the largest retail and wholesale distributor of scuba diving equipment and related products in the Philippines.
Our stores are strategically located and operating in Makati, Cebu City, Mactan Island, Puerto Galera in Oriental Mindoro, Boracay Island, Alona Beach in Bohol, Dumaguete, Anilao, Coron and El Nido to distribute a full range of scuba diving equipment countrywide along with a well-coordinated distribution and service network.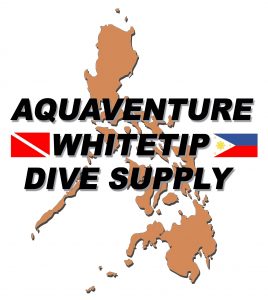 Our Products
Over the years we have established partnerships with some of the world's most recognizable brands of scuba diving equipment.
In the Philippines we are the exclusive distributor of:
APEKS The highest quality regulators, instruments and Technical Diving equipment.
AQUA LUNG Family Incorporating Aqua Lung USA, Aqua Lung France, Technisub and DEEP SEE products.
COLTRI the world's foremost innovative designer and manufacturer of high pressure breathing air compressors and purification systems.
LUXFER aluminum tanks.
PADI materials in the country, supporting the majority of the country's major dive centers, instructors as well as divers.
SUUNTO the World's largest and most prestigious manufacturer of scuba Diving computers and instruments.
Other high quality supporting manufacturers.
Our product line is designed to ensure that our customers dive in comfort and safety, no matter where their operations take them.
Customer Service, Training, and Technical Support
We provide our customers with standard manufacturer's warranty, complete after-sales services & repairs, and product updates.  We also have all spare parts available for our products.
We provide seamless integrated road/sea/air freight delivery and hand-carry, which offer clients an efficient, streamlined, professional operation that ensures orders are delivered on time, anywhere in the Philippines.
We are proud to have created a family of seasoned staff with years of scuba diving and marine sports equipment experience. Our staff are experienced in importation, warehousing, distribution, and customer service.
We have also developed a continuing learning program by conducting regular technical product trainings for our clients in various locations in the country, as well in several of our stores.
Additionally, our staff of service technicians provide "at-location" service check-ups and recommendations for all their scuba diving related equipment.
For more information, contact any of our stores directly.