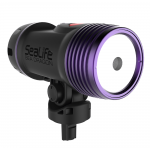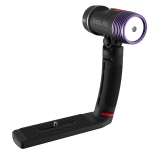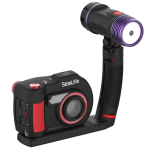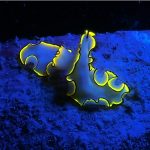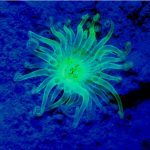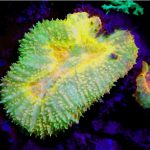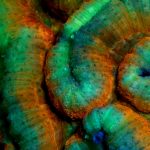 Sealife Sea Dragon Fluoro-Dual Beam Light Kit
$812.60
The Sea Dragon Fluoro-Dual Beam emits a powerful blue light and has an integrated dichroic filter, creating the optimal light wavelength to excite underwater life. Switchable beams quickly adjust with the push of a button from blue fluoro 65° flood to white 800 lumen 15° spot. The Fluoro-Dual Beam includes yellow barrier filters (mask and lens) to filter out the residual presence of blue color emitted by the light.
Vibrant and rich fluoro-colors
The Sea Dragon Fluoro-Dual Beam's Royal blue LED's, with their filter, emit blue light in the range of 450-460nm; the wavelength to "excite" the fish, plants or organisms into making a light filled energy response. The finely tuned and proprietary dichroic filter pinpoints the exact light wavelength to get the highest energy response from the underwater subjects.

Enhance your underwater fluoro-viewing
Two universal, barrier filters are included to improve your experience in underwater fluorescent viewing and imaging. The mask filter fits over the dive mask to filter out the residual presence of blue light emitted by the light (it's the response from the sea creature you want to see, not the blue light). The second filter attaches to any underwater camera with a lens diameter up to 47mm.
Easily expand with Flex-Connect
A Flex-Connect Single Tray, Grip and fitted case are included with the light. Flex-Connect allows you to quickly and easily transform your camera set from compact to full-featured in just seconds by adding grips, Flex Arms, trays and more with just a "click!"
Features
Switchable dual beams features six CREE XT-E Royal Blue LED's with proprietary dichroic filter (light wavelength 450-460nm) flood beam and one CREE XP-L LED white spot beam.
65° fluorescent wide angle beam and 15° white spot beam angle evenly illuminates the subject with no hot spots.
One button control for easy operation – one button to power light on/off and select brightness.
Four brightness levels: 100% fluoro flood, 50% fluoro flood,100% white spot, and 50% white spot.
Hidden emergency signal mode: 1 second blink interval and SOS Morse code.
60 minute run time at full power and constant brightness.
Depth rated to 330 feet/100 meters.
Easy to expand with Flex-Connect™ trays, grips and Flex Arms, handle, Y-S, ball joint, cold shoe and other accessories.
Quick-release button to detach light and aim in crevices and hard to reach areas.
Includes integrated dichroic filter and two universal barrier filters for your dive mask and camera for optimal fluoro viewing and photography.
Corrosion-proof metal light head for heat dispersion and durability.
Removable 25W Li-Ion battery w/ charger and international plug adapters included.
Waterproof battery compartment – even if the O-ring seal fails, the battery compartment is isolated so water cannot reach the internal electronics.
Universal mounting screw fits SeaLife and other brands of underwater cameras w/ standard ¼-20 tripod mount.
Protective circuitry – The light and battery feature integrated protective circuits that cuts power in the unlikely event the light overheats or short circuits.
Safety pressure release valve – one-way waterproof valve releases battery compartment pressure in the unlikely event of battery malfunction.
SeaLife Sea Dragon Fluoro vs. Harmful UV lights
For BEST results and SAFETY reasons, the Sea Dragon Fluoro-Dual Beam uses Cree Royal Blue LED's combined with a proprietary dichroic filter.  SeaLife NEVER has and never will use Ultraviolet (UV) LED's. 
Some companies are selling underwater UV lights claiming the results are better than blue LED's, and that there is no need for yellow barrier filter over your mask and/or camera. The truth is that UV lights pose a serious safety hazard to the eyes of humans and sea creatures. UV light is invisible, so you don't realize that your eye is being bombarded with UV rays. It is a proven fact that extended exposure to UV light has been linked to eye damage, including cataracts, macular degeneration, pingueculae, pterygia and photokeratitis that can cause temporary vision loss. 
The Sea Dragon Fluoro-Dual beam's Blue LED's, combined with our exclusive dichroic filter, emits a powerful blue light creating the optimal wavelength to excite underwater organisms. To see the fluorescence effect best, two yellow barrier filters are included – one for your mask and another for your camera. The primary purpose of the yellow filters are to absorb the visible excess blue light, so you only see is the fluorescence effect. 
Specification
Body material: Anodized aluminum light head with fiber-reinforced polycarbonate body
Light source/Bulb type: Six 5W CREE XT-E Royal Blue LED's and one CREE XP-L white LED
Brightness: 26 watt/m² fluoro flood and 800 lumen white spot (Constant brightness)
Brightness modes: 100% Fluoro Flood, 50% Fluoro Flood, 100% white spot and 50% white spot
Button Control: Long push to power light on/off; Short push cycles through brightness modes.
Light modes: Constant light or hidden emergency signal light (activated by long push of power button)
Color temperature: 5000 ~ 7000K for white spot. Color temp does not apply to blue LED's
Wavelength: 450-460nm (Applies to emitted blue light)
Beam angle: 65° Fluoro flood and 15° white spot
Battery: Lithium Ion 7.4V, 3400 mAh, 25Wh (included)
Battery charge time: 170 minutes
Run time: Fluoro flood beam:  1 hour at full power and 2 hours at half power
White spot beam: 2 hours at full power and 4 hours at half power
Depth: Tested to 330 ft (100m)
Dimensions: 5.1" x 2.2" x 3.8 (13.0cm x 5.6cm x 9.7cm) Head only
Weight: 15.9 ounces (450 grams) Head only with battery
Bulb life: 35,000 hours
O-ring: Dual silicone o-rings (lube included)
Buoyancy: Negative
Avoid using this Sea Dragon light above water for prolonged periods of time
The light is designed for underwater use and water is needed to displace heat. The metal light head at full power will reach temperature of about 140F (60C) degrees within a few minutes, which may cause burning if touched. A thermal sensor will automatically dim the light if internal temperatures reaches 150F (65C) degrees. Immediately turn off light if any parts of the light become hot to the touch.
1-year warranty
The SeaLife Extended Warranty & Maintenance Program is valid only in the USA