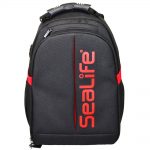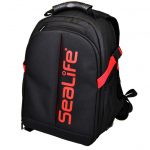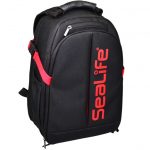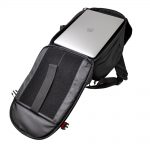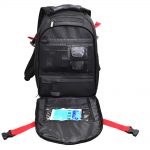 SeaLife Photo Pro Backpack
$163.20
Bring your entire Camera System with you

The SeaLife Photo Pro Backpack's exterior is made of durable ballistic nylon.  Retention straps wrap around the backpack to prevent gear from falling out in the event the zippered pockets are not closed.  The back of the backpack features soft, breathable padding so that it rests comfortably against the wearer's back.
The SeaLife Photo Pro Backpack features a large padded camera/lighting compartment with 6 adjustable dividers to fit virtually any combination of cameras, lights, strobes, lenses and accessories. The compartment's waterproof liner prevents damp camera gear from leaking into the adjoining dry compartments.
Above the the larger "wet" camera compartment, is a dry accessory compartment with 5 zippered pockets for storing common items, like cables, spare batteries, chargers, adapters, manuals, smartphone, sunglasses, etc.
In the rear is another soft-lined, padded, dry compartment for 13″ notebook PC's or tablets.
Yet, the outside dimensions of the Photo Pro Backpack are very compact so you can carry the backpack on to any aircraft.
The external zippers are made of corrosion-proof material suitable for marine environment. Six rubber feet are in place on the bottom to keep the backpack standing upright and not directly touching the ground or deck surface of a boat. Two large drain holes are on the bottom, to allow for drainage from the large "wet" compartment and fast drying.
Specifications
Whole Backpack
Height: 15"/31.8cm         Width: 10"/25.4cm          Depth: 6.5"/16.51cm
First Zipper Compartment
Height: 13"/33.02cm       Width: 10"/25.4cm          Depth: .5"/12.7cm
Inside First Zipper Compartment
Plastic Pocket
Height: 7.5"/19.05cm
Width: 7.5"/19.05cm
Top Mesh Pocket
Height: 5.5"/13.97cm
Width: 10"/25.4cm
Bottom Mesh Pocket
Height: 4"/10.06cm
Width: 10"/25.4cm
Two Small Pockets
Height: 2"/5.08cm
Width: 2.5"/6.35cm
Second Zipper Compartment
Height: 15"/31.8cm         Width: 10"/25.4cm          Depth: 4"/10.06cm
Laptop Compartment
Height: 11"/27.94cm       Width: 10"/25.4cm          Depth: .5"/1.27cm
Backpack Weight
60 oz. (3.75 lbs)
1700 grams
1-year warranty
The SeaLife Extended Warranty & Maintenance Program is valid only in the USA