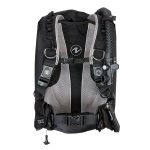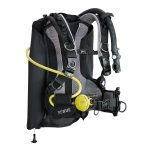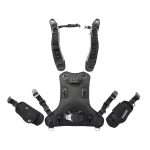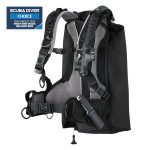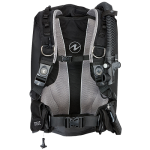 AQUA LUNG Rogue
$1,143.02
Created for the accomplished diver who knows exactly what gear they want,
Rogue BCD Sizing Chart
| Size | Height | Weight (lb) | Waist Range (in) | Over the Shoulder (in) |
| --- | --- | --- | --- | --- |
| S | 4'8 - 5'7 | 90 - 155 | 29 - 43 | 33 - 42 |
| M | 5'7 - 6'0 | 150 - 210 | 32 - 48 | 40 - 49 |
| L | 5'10 - 6'5 | 200 - 270 | 42 - 58 | 44 - 53 |
Created for the accomplished diver who knows exactly what gear they want, the Rogue BC strikes the perfect combination of personalization and minimal design. Utilizing Aqua Lung's patent pending ModLock connectors, the Rogue allows divers to dive their way thanks to the Rogue's easily interchangeable size and accessory configurations. With a 15L/35lb lift capacity, SureLock II weights, 2 folding pockets, and stainless steel D-rings — this BC comes standard with all the bells and whistles you want, without all the fluff you don't. When it comes to your gear, make every dive personal. Your Dive. Your Way.
FEATURES
Perfect combination of minimalist design along with the most desired features:

Pockets, Stainless D-rings, Octo holder, knife attachment point

Easy-to-disconnect and reattach shoulders and waists and has an overall weight less than 2.2kg/5lbs
Interchangeable shoulder and waist strap components:

Create 27 possible sizes for the perfect fit for every diver
Webbed daisy chain, often found on military gear, provides multiple attachment points for your accessories

Back inflation BCD with 15L/35lbs lift capacity
GripLock™ tank band – patent pending finger-saver feature and macro presets create an easy and safe solution for securing and detaching a cylinder to a BC
A new 3 position bladder retraction system pulls in the sides of the bladder during deflation keeping the unit streamlined and reducing drag
Chest strap for personalized comfort
Features 4 Stainless Steel D-rings for streamlined accessory attachment
Upper and lower right pull dump
SureLock II™ Weight System (patented) – allows you to easily insert the weight pouch and an audible "click" lets you know the weights are secure in the BC. Once engaged, the weights can be released with a firm pull of the handle
Optional

Trim pockets (1.5kg/3lbs)
SMB pocket
Waistband Extender
Specification
| | |
| --- | --- |
| Style | Modular/Back Inflation |
| Sizes | 3 packaged (27 possible size configurations) |
| Dump valves | Flat valves |
| Inflator | Powerline |
| Weight System | SureLock |
| Tankband | GripLock |
| # of D-rings | 4 Stainless |
| Pockets | 2 Drop down |
| Knife attachment | Yes |
| Ditchable weight | 9kg/20lb Modular SureLock system |
| Non-ditchable weight | 1.5kg/3lb (with optional trim pockets) |
| Lift Capacity (lbs/N) | 15L/35 lb/150N |
LIMITED LIFETIME WARRANTY
All warranty transactions must be accompanied by proof of original purchase from an Authorized Aqua Lung Dealer or Distributor.
Be sure to save your sales receipt, and present it whenever returning your BC for warranty service.
Warranty coverage on buoyancy compensators covers the product throughout its useful life, subject to the conditions listed below and utilizes a pro-rated replacement policy.
Aqua Lung warrants to the original purchaser for the useful life of the product, from the date of purchase, that the product will be free from defects in materials and workmanship, provided that it receives normal use, proper care and prescribed dealer service subject to the limitations listed below. The Limited Lifetime Warranty is extended only to the original purchaser for purchases made from an Authorized Aqua Lung Dealer or Distributor and is not transferable. This warranty is limited to repair or replacement only at the discretion of Aqua Lung.
| | |
| --- | --- |
| Weld/Seam Leaks: (*Qualifying Service Records Required) | 5-Year Limited Warranty |
| Zuma and Passport BC's | 2-Year Limited Warranty |
| Hardware (Buckles, Zippers, D-Rings, etc.) | 2-Year Limited Warranty |
| AQ Wave and Pro BCD | Rental BCD Not Included |