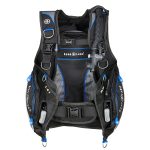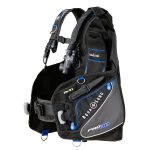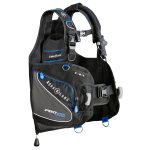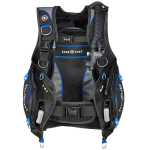 AQUA LUNG Pro HD
$731.00
Pro HD BCD Sizing Chart
| Size | Height | Weight (lb) | Waist Range (in) | Over the Shoulder (in) |
| --- | --- | --- | --- | --- |
| XS | 5'0" - 5'5" | 100 - 125 | 25 - 37 | 32 - 38 |
| S | 5'2" - 5'7" | 120 - 155 | 27 - 42 | 34 - 40 |
| M | 5'7" - 5'10" | 150 - 165 | 30 - 45 | 39 - 45 |
| ML | 5'10" - 6'0" | 160 - 190 | 32 - 47 | 41 - 47 |
| L | 6'0 - 6'2" | 180 - 210 | 35 - 50 | 43 - 49 |
| XL | 6'2" - 6'5" | 195 - 240 | 37 - 52 | 45 - 51 |
The Pro HD is a wrap-around jacket with weight integration that is sure to appeal to a wide range of divers. It provides excellent value because it is so feature-rich for the price. Due to its advanced ResisteK™ material, it will hold up to the rigors of salt and chlorine and retain its good looks. Wherever you want to take it, it's ready to go.
FEATURES
SureLock™ II Mechanical Weight Release System (patented) – provides a safe, single-pull release. Inserting weight is as simple as insert and "click". With SureLock, your weights are secure in the BC. Once engaged, the only way to release the weight is to pull on the handle
A proprietary backpack has a built in carrying handle and a traction pad to reduce tank slippage
Technologically advanced ResisteK™ material resists fading and abrasion
The large, easy-to-access, utility pockets found on either side of the Pro HD have two-way zippers with zipper pulls. There is an attachment loop inside the left pocket
The waistband is adjustable in the back to accommodate a wide range of waist sizes
The low profile flat valves reduce drag when moving through the water
Fixed pockets on the tank band increase weight capacity and help provide proper trim in the water
A scooped octo-pocket on the top, front of the right lobe makes it easy to stow and deploy an octopus. The octopus remains visible and accessible throughout the dive
Some divers may find it useful to run their instruments behind the left pocket and out the scooped opening on the top, front of the lobe
A positioning strap allows you to set the Pro HD at your preferred height each time
Knife attachment points are found on the left lobe which will accommodate many of the Aqua Lung knives. This location provides easy access to the knife
Features 5 stainless steel D-rings for all of your accessories
Large pull bobs are easy to locate and grip with thick gloves
Right shoulder pull dump is easy to locate and use
Lower rear dump is useful for horizontal or head down orientation
The chest strap can be adjusted for personal comfort
Optional accessories include the Airsource, Squeeze-lock knife, reflector kit and retractor kit.
Specification
| | |
| --- | --- |
| Style | Weight-integrated Jacket |
| Inflator | Powerline |
| Aircell Material | ResisteK™ |
| Dump valves | Flat valves |
| Harness | Standard |
| Weight System | SureLock™ II |
| Tankband | Universal slotted tankband |
| # of D-rings | 5 stainless |
| Pockets | 2 utility pockets w/ 2-way zippers |
| Knife attachment | Yes |
| Rolled collar | No |
| Right Shoulder Pull Dump | Yes |
| Lower Dump Valve | Yes |
| Positioning Strap | Yes |
| Chest Strap | Yes |
| Ditchable weight | XS – ML 20lb/9kg, LG – XL 30lb/13.5kg |
| Non-ditchable weight | 10 lb/4.5kg |
| Lift Capacity (lbs/N) | XS – 24/100, SM – 27/120, MD – 29/120, ML – 33/140, LG – 44/190, XL – 55/240 |
LIMITED LIFETIME WARRANTY
All warranty transactions must be accompanied by proof of original purchase from an Authorized Aqua Lung Dealer or Distributor.
Be sure to save your sales receipt, and present it whenever returning your BC for warranty service.
Warranty coverage on buoyancy compensators covers the product throughout its useful life, subject to the conditions listed below and utilizes a pro-rated replacement policy.
Aqua Lung warrants to the original purchaser for the useful life of the product, from the date of purchase, that the product will be free from defects in materials and workmanship, provided that it receives normal use, proper care and prescribed dealer service subject to the limitations listed below. The Limited Lifetime Warranty is extended only to the original purchaser for purchases made from an Authorized Aqua Lung Dealer or Distributor and is not transferable. This warranty is limited to repair or replacement only at the discretion of Aqua Lung.
| | |
| --- | --- |
| Weld/Seam Leaks: (*Qualifying Service Records Required) | 5-Year Limited Warranty |
| Zuma and Passport BC's | 2-Year Limited Warranty |
| Hardware (Buckles, Zippers, D-Rings, etc.) | 2-Year Limited Warranty |
| AQ Wave and Pro BCD | Rental BCD Not Included |